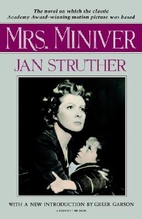 A book from the public library, read and reviewed on LibraryThing in January, 2014
Mrs. Miniver is an imaginative and thoughtful woman, a loving wife and mother. This is a gentle and easy reading book with little plot. Each chapter is a different episode of Mrs. Miniver's life, with her thoughts and observations.
Mrs. Miniver was strong in time of war and preparation for war (WW II). She tried to keep things as normal as possible for her children, preparing them without alarming them. She volunteered with First Aid and took in seven refugee children to her country house in Kent. Written with sympathy and humor, and plenty of human interest.